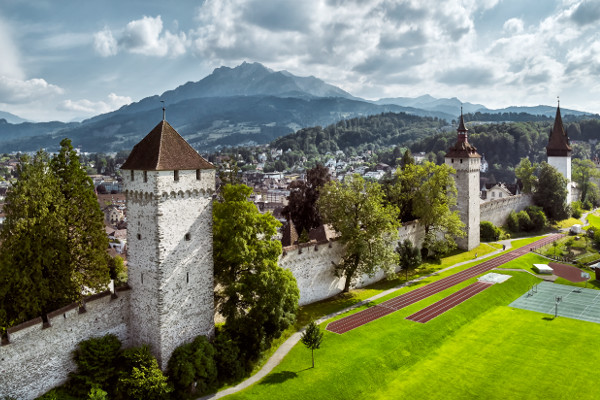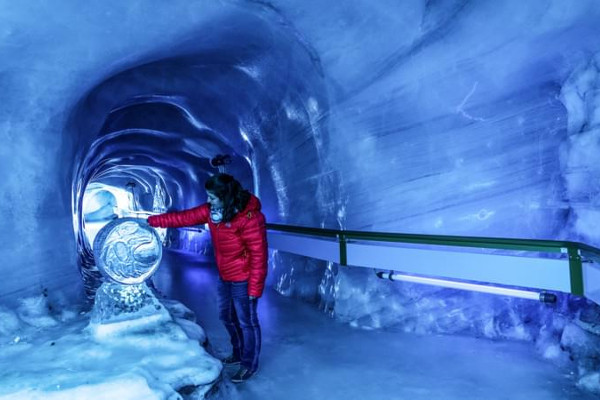 Discover Lucerne
Lucerne ranks amongst the world's prettiest cities and is rich in sights and attractions. Contributing to Lucerne's cityscape alongside the world-famous Chapel Bridge and Water Tower are the Musegg Wall, the Jesuit Church, the Spreuer Bridge, the Lion Monument, the KKL culture and convention centre. Lucerne is best discovered on foot.
The Lucerne-Lake Lucerne Region is packed with a fascinating variety of mountain experiences and record-breaking mountain railways and cableways. Popular destinations boasting breathtaking panoramas include the Rigi, Pilatus, Titlis and Stanserhorn, as well as countless other mountain and walking areas.
TITLIS Rotair aerial cableway and Glaciar Cave
The TITLIS is a highlight of the Lucerne–Lake Lucerne Region, being the only glacier in Central Switzerland and offering perfect panoramic views of snow-topped mountains. The TITLIS Rotair cable car rotates its way up towards the snow-covered summit of TITLIS. The world's first revolving cable car transports you from the middle station at Stand up to the summit station at 3,020 metres above sea-level. The cable car revolves 360 degrees during the five-minute trip, treating you to idyllic panoramic views of steep rock faces, deep crevasses and distant snow-covered mountain peaks.
Navigation on Lake Lucerne
The German name of the lake has its origins in the four historical "forest cantons" that surround Lake Lucerne: Uri, Schwyz, Unterwalden and Lucerne. The oath sworn in 1291 by representatives of these cantons on the Rütli meadow by Lake Lucerne laid the foundations for the Swiss Confederation. For a long time, the lake was the most important transport axis in the region.
Enjoy the fresh lake air on an outing on Lake Lucerne. You will highly enjoy the scenery and the historical places dotted along the shoreline. A trip aboard one of the five historic paddle steamers or 15 elegant saloon motor vessels is one of the highlights of the region. More info: www.lakelucerne.ch.
Organizer
Matthias A. Hediger
University of Bern, Switzerland
Coorganizers
Anne Nies
Dr. Margarete Fischer-Bosch-Institut für Klinische Pharmakologie (IKP), Stuttgart, Germany
David Hepworth
Department of Worldwide Medicinal Chemistry, Pfizer, Cambridge, USA
Ken-Ichi Inui
Kyoto Pharmaceutical University, Japan
Bruno Stieger
University of Zürich, Switzerland
Coordination
BMT2019 Admin Team